This release contains information on progress towards the recruitment of an additional 20,000 police officers in England and Wales by March 2023.
Key findings
provisional data show that there were 135,248 officers in the 43 territorial police forces in England and Wales as at 31 December 2020
this is an increase of 6,814 officers on the adjusted baseline of 128,434. Of these additional officers:

6,620 had been recruited from funding for the Police Uplift programme and contribute towards the target of 20,000 by March 2023 (5% on top of baseline)
a further 194 additional officers had been recruited through other funding streams (such as year ending March 2021 local council tax precept)
Figure 1: Officers recruited into uplift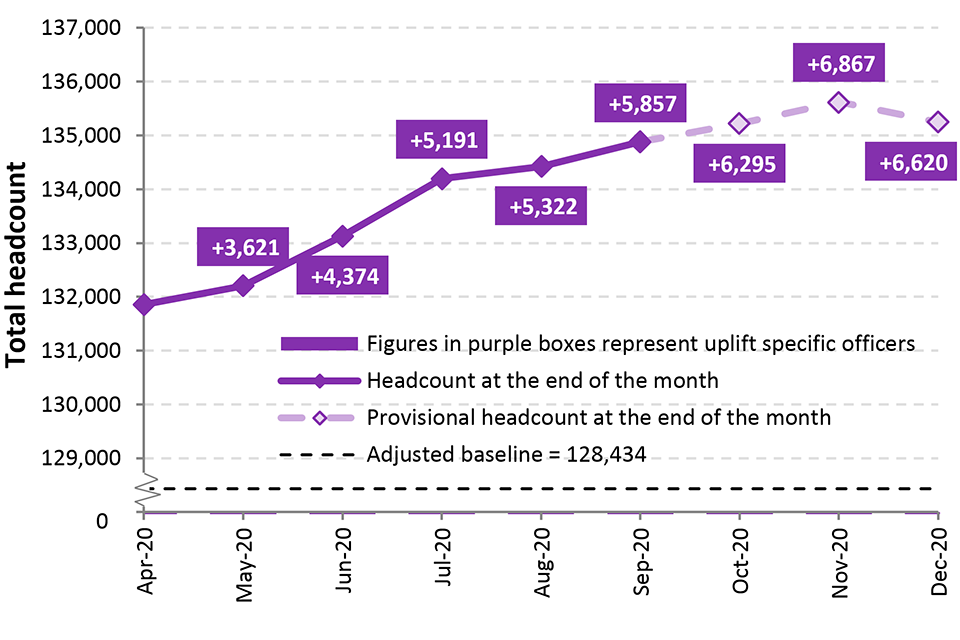 The chart shows the baseline of 128,434 and the uplift position for each month since April 2020. As at 31 December 2020 there were 135,248 officers. 6,620 officers counted towards uplift.
Notes: 1. Following an in-year adjustment (of -38) to the baseline for Greater Manchester Police, the adjusted baseline for England and Wales is now 128,434.
since April 2020, four in ten new recruits (40%) have been female; over the same time period 10.2% of new recruits (who stated their ethnicity) identified as belonging to the Black, Asian, Mixed, or Other ethnic group
121,016 applications to become a police officer have been received since October 2019
Read the full release on UK Government Website: https://www.gov.uk/government/publications/police-officer-uplift-quarterly-update-to-december-2020/police-officer-uplift-england-and-wales-quarterly-update-to-31-december-2020